RAHRDOG Ball
The Virtually Indestructible RAHRDOG Ball That Outdoes Them All.


Introducing the indestructible, shelter-saving, and vision-optimized dog ball! This ball is the ultimate plaything for your furry friend. It's virtually indestructible, so you can finally say goodbye to constantly buying new toys. Plus, with each purchase of this ball, you'll be giving a RAHRDOG ball to a shelter pup in need. That's right, one ball can make a world of difference.
Unique blue color is dichromatic vision optimized for dogs making it easier for them to spot in the grass or water. This means more fetch and less time spent searching for lost toys!


Chew adjusting technology - if your dog is a heavy chewer, have no fear. The chew adjusting technology will keep the ball intact,

no matter how many hours of chew time your dog puts in.




Designed with large dogs in mind so it's the perfect size for those big, slobbery jaws. Your pup will be entertained for hours, and you'll finally have peace of mind knowing they're playing with a safe, non-toxic and durable toy.


CPSIA, ASTM, CA65, BPA Tested for ultimate pet-parent confidence in the safety of the RAHRDOG Ball: every RAHRDOG Ball is non-toxic, free of BPAs, latex and phthalates. 
---
Multi-column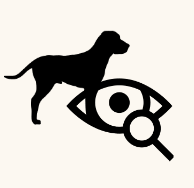 FETCH-OPTIMIZED BLUE COLOR
The bold blue shade is one of the only colors dogs can actually see, making this ball a feast for your dog's eyes.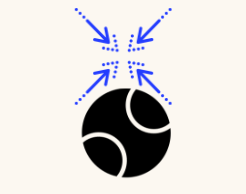 CHEW-DEFENSE TECHNOLOGY
Unique anti-collapse multi-layered surface adjusts to your dog's every bite to be indestructible (yet soft).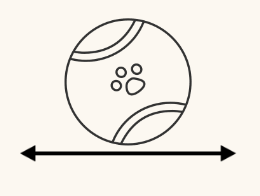 OPTIMAL SIZE FOR LARGE DOGS
At 3.4 inches wide, the RAHRDOG Ball is the optimal vet recommendedsize for chewing, chasing and fetching for large dogs.
OPTIMAL SIZE
The RAHRDOG Ball is solid rubber, with a 3.4" diameter - recommended for medium to large dogs (25 lb+).